Water Delivery
Clean, refreshing drinking water is a must-have in any home or office. That is why we deliver 5-gallon bottles of our reverse osmosis water in South-West Michigan. Our purified water is bottled here in Kalamazoo with our state-of-the-art bottled water machine.
We can deliver the water right to your home or business and take it where ever you need it, so you do not have to deal with moving the bottles yourself. If you will not be home on your delivery day, just give us a call and we will make other arrangments for you.
Lacking floor space for storage of your bottled water? Rent or purchase a Bottle Buddy rack to stack your water for more floor space!
Canney's also delivers distilled water.
Other Services
We offer a range of other services, including:
Swimming pool fills: Splash in iron-free water all summer long. Let Canney's Water Conditioning take charge of filtering the water for your pool.
Salt delivery: We deliver salt by the bag and by the skid. For roughly the same price, we can save you a trip to the store and bring salt directly to your home.
Water Coolers: Cold, refreshing drinking water is a must-have in any home or office. We'll deliver the water and cups directly to you.
Coffee services: Skip the expensive coffee chains. We can bring you a variety of gourmet coffees that you can enjoy in your home or office. We have a large selection of k-cups too!
Contact Us
From our office in Kalamazoo, we serve businesses all over Southwest Michigan. For more information, contact Canney's Water Conditioning, Inc. today.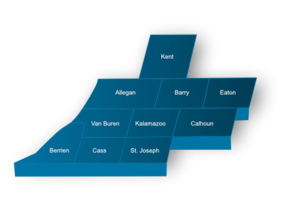 We solve water problems for the residential and commercial markets