Arsenic Water Filtration
Arsenic is a highly toxic substance that can have numerous negative effects on human health when present in drinking water. Long-term exposure to arsenic has been linked to several health problems, including skin lesions, diabetes, cardiovascular disease, and cancer. Arsenic-contaminated water can also have negative impacts on agriculture, livestock, and other forms of environmental health, leading to reduced crop yields and livestock production.
Arsenic can enter the water supply in a number of ways. In some cases, natural deposits of arsenic in the ground can dissolve into the water supply. Arsenic contamination may also be caused by human activity, such as mining and smelting, or in agricultural areas where arsenic-containing pesticides, herbicides, and fertilizers are frequently used. If your water supply is found to have high levels of arsenic, it is important to take immediate action to ensure that your water is safe for consumption.
Remove Arsenic from Your Well Water with an Arsenic Water Filter
Our whole house arsenic removal water filters are the ultimate solution for ensuring your entire home has access to clean and safe drinking water. Our filters are ANSI certified and have been proven to meet or exceed standards set by the EPA, which state that concentration of arsenic in drinking water should not surpass 10 parts per billion (ppb).
Canney's whole house arsenic water filters are easy to install, require minimal maintenance, and are highly effective at removing arsenic from your water supply. With our filters, you can be rest assured that your family is protected from the harmful effects of arsenic in your water.
Request a Water Test to Protect Your Health & Ensure Safe Drinking Water
The presence of arsenic in water cannot be detected by sight, smell, or taste. Therefore, it is essential to have your water tested regularly, especially if you live in an area where arsenic is known to occur naturally in the soil. Here at Canney's Water Conditioning, Inc., we are committed to ensuring safe, clean water for residents throughout Southwest Michigan. We partner with a local lab, available to schedule an arsenic water test for you (Customer responsilbe for cost of water test) and based on the test results, Canney's Water Conditioning, Inc. will recommend the appropriate equipment for arsenic removal, to ensure your health is protected.
Request an appointment
today.
Arsenic Water Filtration Systems for Residents of Southwest Michigan
Ensure safe and clean drinking water for you and your family with our arsenic water filtration systems. With over 80 plus years of water treatment and service expertise, Canney's Water Conditioning can help keep your water contaminant-free. Call us today at
(269) 343-2691
or
contact us
to discuss your arsenic water filtration needs.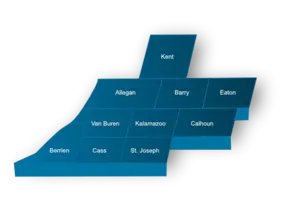 We solve water problems for the residential and commercial markets