Industrial & Commercial Water Treatment Systems
Water with high mineral content leaves unsightly water spots on dishes and plumbing fixtures, and the presence of arsenic, nitrates, microbes, PFOAs, and other contaminants places human health at risk. There are different types of commercial/industrial drinking water filters available for water purification including carbon filters, UV filters, alkaline/water ionizers and reverse osmosis systems. While all are effective, reverse osmosis is proven to be the most effective at removing PFOA, PFOS, and sediment, iron, and sulfur.
This type of filtration is especially important in Southwest Michigan, where parts of Kalamazoo County were previously found to have exceptionally high contamination levels of PFAS and PFOA. Southwest Michigan also has several PFAS sites where groundwater samples exceeded acceptable PFOS and PFOA levels for drinking water. These chemicals have been linked to cancer, birth defects, obesity, and numerous other adverse health risks. Give us a call (269)-343-2691 or contact us with questions.
Commercial / Industrial Reverse Osmosis Systems Significantly Improve Water Quality
Installing a Commercial/Industrial drinking water filter system helps keep people safe by significantly reducing the concentration of these toxins in your water supplies. Hotel guests expect clean water for showering. Apartment complex residents need clean water for showering, cooking, and drinking. Schools, hospitals, and office buildings rely on filtered water to ensure the health of their students, patients, and employees. At Canney's Water Conditioning, Inc., we make all these things possible. In fact, we have been bringing clean, filtered water to businesses throughout Southwest Michigan since 1940.
Our commercial and industrial water treatment systems are tailored to your water filtration needs and provide clean, safe water while also protecting plumbing fixtures, showers, and sinks from staining and damage. Schedule an appointment for a free water test or contact us to learn more about our industrial water filtration systems.
Industrial Water Filtration Systems and Commercial Water Softener Services
The Commercial/Industrial Division at Canney's supplies a wide range of water treatment from simple filtration and softening to high-quality reagent grade 1 water. Water filters, water softeners, reverse osmosis systems, cartridge filters, ultraviolet, and instrumentation make up much of the equipment mix that we offer. Commercial/industrial salt delivery service and bottled water service are also available. Our current customers consist of manufacturing facilities, hotels, motels, apartments, schools, office buildings, laboratories and others as well. Equipment can be purchased or rented.
We maintain our own service and installation trained staff. Due to the critical nature of the water treatment in this area, our commercial and industrial customers receive priority status for installation and service. Learn more about our services below or contact us to discuss your commercial/industrial drinking water filtration requirements.
Commercial / Industrial Water Softeners
Hard water plays a role in the buildup of limescale in pipes and heat transfer systems. Our commercial water softeners prevent corrosion and scale build up to protect pipes and hot water systems in hotels, motels, schools and apartment complexes. We offer commercial/industrial water softener units in a broad range of sizes, up to 1.2 million grain per vessel with 6" valve ports. Choose from single, duplex and triplex commercial/industrial water softeners with different control options. Our water softening systems are available for sale, rent, or rent with an option to buy.
Industrial / Commercial Drinking Water Filters
Hotels, hospitals, laundromats, restaurants, manufacturing facilities, and other business require water that is free of contaminants such as iron, sediment, and parasites. We offer industrial drinking water filters in single, duplex or triplex with filtration rates range from 30 microns to 0.1 microns absolute. We offer Commercial/industrial drinking water filter repairs for systems in need of maintenance.
ENPRESS Cartridge Tank for Commercial / Whole House Water Filtering
For commercial water filtering, we offer the ENPRESS Cartridge Tank. The ENPRESS Cartridge Tank comes available in the Purple and Red Filtration Series. Contact us for more information.
Commercial / Industrial Reverse Osmosis Systems
Restaurants and hotels rely on reverse osmosis units to ensure that the water they use for food preparation, ice, bar drink mixes, and water served to customers is as clean as it can possibly be. Our commercial RO systems reduce unwanted elements and chemicals, including PFOA and PFOS, by 93 - 96%. Reverse osmosis units are also used in boilers, steam production, and manufacturing plants. We offer a broad range of reverse osmosis accessories including holding tanks, re-pressure systems, instruments, and meters.
Bulk and Multi Skid Salt for Commercial / Industrial Water Softeners
We deliver bulk salt and skid salt to homes, hospitals, and businesses throughout Southwest Michigan. Our drivers can also deliver directly to brine tanks and brine bins on a schedule that meets your needs, allowing you to enjoy worry-free water softener operation.
Industrial / Commercial Backflow Testing
Michigan state laws and city municipal codes require backflow testing annually and after installation, relocation or repair. Our master plumber is highly qualified and licensed to perform installation and backflow testing for commercial/industrial sites.
Learn More About our Commercial / Industrial Water Treatment Systems and Services
Canney's offers commercial solutions including industrial water filtration systems, bulk salt for Commercial and industrial water softeners, and backflow testing. Contact us to learn more about our services or request an appointment for a free water test and consultation at your business.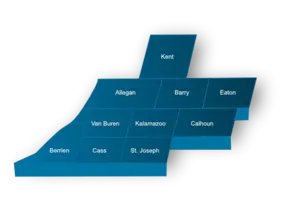 We solve water problems for the residential and commercial markets