Water Softener Salt
Our salt delivery program is available throughout several counties in South West Michigan. Salt can be delivered right to your softener. The salt tank can be filled, empty bags removed and a delivery receipt is left at your home. If this is not possible, we can also leave salt at your residence or you can make other arrangements with us. Call us today to hear about our salt delivery program.
We carry many kinds of salt for water softeners. We have high quality salt in 40# and 50# bags. One type of salt we carry has a resin cleaning additive, which assists in removing iron from the resin during each regeneration. This results in better resin maintenance which will lead to better softening operation. We also carry K-Life. The K-Life is potassium chloride, which is great for anyone with a low sodium diet. You can order any type of salt we carry in any quantity your desire. To hear about our other types of salt or to set up a delivery, give us a call today at 269-343-2691.
Salt – Ice Control
We carry two brands of ice control salt, each available in 50# bags. The determining factor is the temperature at which the different salts melt ice. The first kind we carry is Melt Away Rock Salt and the effective melting temperature is down to +6 degrees F. The second kind we have available is Green Scapes Ice Melt Blend and the effective melting temperature is down to -10 degrees F. Give us a call in advance to reserve your ice control salt for the season at 269-343-2691.
MYTH: Ice control salt damages concrete.
FACT: The freeze-thaw cycle is what does the damage. Concrete is porous and looks much like a sponge, just harder and denser. As the ice thaws, the open areas fill with water, when the water re-freezes, it expands and breaks the surface of the concrete. This is called "spalling." It is highly recommended not to use salts on concrete that is not seasoned for three (3) years or non-sealed concrete.
For more information about our salt, click here to send us an email or give us a call at 269-343-2691.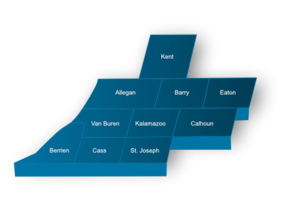 We solve water problems for the residential and commercial markets