Drinking Water Filters in Southwest Michigan
Whether you're cooking, cleaning, or drinking, water is an essential component to our everyday lives. Canney's Water Conditioning, Inc. can ensure the water you use in your home is safe for all your daily needs. We supply a variety of water filtration systems designed to improve the quality of water in your home.
With over 80 years of experience, Canney's Water Conditioning, Inc. is dedicated to supplying homes throughout Southwest Michigan with clean, safe water for everyday use.
Contact us
today to learn more about our water treatment products and services.
Benefits of Water Filtration Systems for Your Home
Whether pumped from a well or received from a municipal source, the water that comes out of your faucets is not always as clean as it appears. Untreated water is often full of contaminants, such as bacteria, viruses, pesticides, fertilizers, and a variety of harmful chemicals. Canney's Water Conditioning, Inc. can work with you to find a filtration system best suited to your residential needs.
Benefits of installing a drinking water filtration system in your home include:
Improved taste and smell of your water
96% purified water
Cost-efficient
Low maintenance
Minimal space required
Reduces health risks associated with consumption of unfiltered water
Residential Drinking Water Filters
We offer water filtration solutions for a variety of contamination issues.
Request an appointment
for a free at-home water quality test today. Refer to the information listed below for details regarding our residential water treatment products.
Reverse Osmosis Water Systems
Also known as point of entry systems or under sink units,
RO units
connect to your main water line to provide filtered water to your designated drinking water faucet. These units use a natural filtration process designed to reduce contaminants in your water by a factor of 92-96%. Typically installed under your sink or in your basement, RO units take up minimal space and use less energy than other filtration systems.
Iron Water Filtration
If your water has a metallic taste or leaves a reddish hue in your sink, bath tubs, laundry, clothes or hair, you are most likely dealing with iron contamination. If left untreated, high levels of iron can build iron residue in your pipes resulting in lower water pressure, water heater damage, and staining throughout the home fixtures and appliances. Our
iron filter systems
will remove up to 15 parts per million of iron from your water and are chemical-free.
PFOS & PFOA Water Filters
PFOS and PFOA are harmful toxins that have been found in high levels throughout parts of Southwest Michigan. If consumed in excess, these chemicals have been known to cause severe health effects, such as cancer and weakened immune systems. Canney's supplies
water filters designed specifically to remove excess PFOS & PFOA
from your home's water supply.
Tannin Removal
Tannins are an organic substance consisting of surface water that has passed through peaty soil or fermenting vegetation. Found in well water and small municipal supplies, tannins often give water a brownish tint like what you would see in tea. While they don't pose any health risks, tannins often produce an unpleasant odor and a bitter aftertaste. We supply a variety of
filtration options designed to remove tannins
from your water.
Contact Canney's Water Conditioning, Inc. to Supply Your Home with Clean, Safe and Reliable Drinking Water
Are you ready to install a drinking water filter in your home?
Contact Canney's Water Conditioning, Inc.
today. We're located in Kalamazoo and serve customers throughout Southwest Michigan.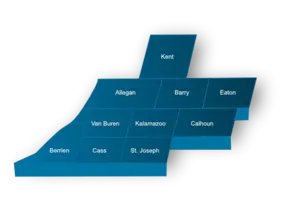 We solve water problems for the residential and commercial markets