Filtered Water for Southwest Michigan
Ensure your water is clean and contaminant-free with filtered or purified water. Canney's Water Conditioning offers bottled water, distilled water, and different water filtration methods for all your high-quality purified water needs.
Call us at 269-343-2691 to discuss which filtered water option is best for your home or business. Our purified water experts are ready to help you today.
Explore Our Filtered and Purified Water Options
In addition to our bottles of reverse osmosis filtered water, we also have cases of distilled water. Distilled water is available for all of your household and business needs.


Bottled Water
Canney's
Bottled Water Division
is ready and eager to deliver high-quality, purified water to your home or office on a regularly scheduled delivery program. Our water is processed and purified by means of reverse osmosis with state of the art equipment. Our bottling plant is located on site. Our bottled water options and accessories include:
5 gallon purified reverse osmosis water jug
Purified 16.9 oz drinking water bottles in 24 pack case
Dolphin Pump bottled water dispenser in 3 and 5 gallon bottles
Bottled water cradle and spigot dispenser in 3 and 5 gallon sizes
Bottled water pump in 3 and 5 gallon bottles – FloJet 5000 series
Bottle buddy – 4 tier shelf fits 3 and 5 gallon bot tles
Distilled Water
Our
distilled water
is available in a case of six, one-gallon bottles used in a variety of environments such as medical offices, manufacturing facilities, as well as home use.
Water Filtration Methods
Filtered and purified water has become increasingly important to the state of Michigan due to high levels of PFAS and PFOA found in various drinking water aquafers. We offer PFOA and PFOS Water Filtration systems to remove toxic chemicals from your drinking water and ensure your health and well-being.
Benefits of Purified Water
96 – 98% purified drinking water, contaminant free
Refreshing, clean taste
Safe and healthy
Canney's Water Conditioning Filtered Water Advantages
Start Using Purified Water Today
For over 80 years, Canney's Water Conditioning has been Southwest Michigan's best source for great-tasting, high-quality purified drinking water. Call us at
269-343-2691
or
contact us
through our online form to request a free water test today.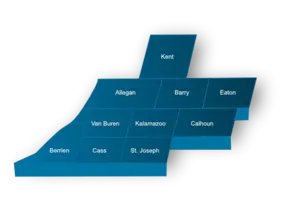 We solve water problems for the residential and commercial markets