Southwest Michigan Water Delivery Service
Clean, refreshing Purified drinking water is a must-have in any home or office. Water is essential in preventing dehydration and is a healthy alternative to sugary sodas and caffeine drinks. If your tap water has a bad taste or doesn't meet purity standards, it's time to consider using a water cooler delivery service. Scheduling bottled water delivery is an easy way to ensure your family or employees always have access to contaminant-free purified drinking water.
Give us a call (269)-343-2691 or contact us with questions.
Pure, High-Quality Drinking Water for Your Home or Office
We deliver 5-gallon bottles of our clean and filtered water in Southwest Michigan. Our purified water is bottled in our Kalamazoo manufacturing plant utilizing our state-of-the-art bottled water machine. We manufacture reverse osmosis purified, clean, potable water with purity levels you can trust. The reverse osmosis purification process is highly effective at removing up to 90 different chemicals, minerals, pharmaceuticals, PFAS, Lead, Cyst, to name a few and other contaminants that affect the look, taste, and purity of tap water.
Schedule Bottled Water Delivery in Southwest Michigan
Canney's is a local, family owned and operating company, offering bottled water delivery in Southwest Michigan. Our water cooler delivery service area includes Barry, Berrien, Calhoun, Cass, Eaton, Kalamazoo, St. Joseph, and Van Buren.
Our Southwest Michigan water delivery service operates Monday-Friday, from 8:00am to 4:30pm. Choose from a bi-weekly or monthly water delivery schedule based on your needs. We deliver water right to your home or business and take it wherever you need it, so you will not have to deal with moving the bottles yourself. If you are not home on your delivery day, we can leave the delivered bottles to a location that you request or just give us a call and we will make other arrangements for you.
We Offer Water Coolers for Purchase
We build flexibility into our water cooler delivery services. Select from a black or white unit in "cook and cold" and "hot and cold" water dispensing options. We offer 5-gallon water dispensers for purchase, depending on your needs and budget.
Lacking floor space for storage of your bottled water? Try a Bottle Buddy rack to stack your water for more floor space!
Canney's also delivers distilled water by the case. Each case contains six 1-gallon bottles of water.
Contact Us for Bottled Water Delivery in Southwest Michigan
Canney's is based in Kalamazoo and serves residences and businesses throughout Southwest Michigan within a 50-mile radius. For more information or to schedule your office or home water delivery, contact Canney's Water Conditioning, Inc. today.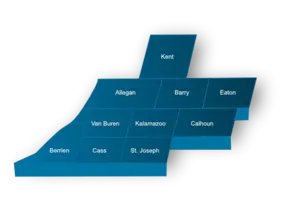 We solve water problems for the residential and commercial markets