Whole House & Inline Water Filters
Eighteen million Americans live with deficient water systems. Exposure to the harmful chemicals and heavy metals found in these insufficient water systems is the cause of several well-documented physical ailments. Canney's Water Conditioning, Inc. specializes in water filtration services for whole house and inline applications, providing safe, clean water for residential homes. If you have questions about our whole house or inline water filtration systems,
contact us
online or call us at (877)343-2699.
Whole House Water Filtration
Whole house water filtration systems are engineered to provide water purification for entire households. Installed at the water supply source, whole house water filtration involves the removal of particulate and soluble lead from water lines that run throughout a home. Benefits of whole house water filtration systems include:
Filtered water for every application in the home
Removes the need for multiple individual filters
While it is a larger financial cost upfront, it is a cost-effective investment long-term
Provides years of safe, clean water throughout the household
Inline Water Filtration
Inline filters are designed to provide water filtration for a localized application. The filter is installed on a water line, filtering the water that passes through for an appliance or tap. These filters are ideal for home applications, including under-sink installations and drinking water dispensers. Benefits of inline water filters include:
Localized water filtration for specific applications
Very affordable solution for water purification
Easy installation
Can be installed in most sink and tap water applications
Ideal for smaller households
Varieties of Whole House & Inline Water Filtration Systems at Canney's
Canney's Water Conditioning carries several whole home and inline water filtration systems. We provide consultation and installation services for each of our systems.
PIONEER™ Whole House Water Filtration System
PIONEER™ water filtration systems are designed to reliably provide clean, filtered water for households. Pioneer water filters not only remove heavy metals such as lead, it also reduces chlorine, chloramine, and other harmful contaminants in home water systems.
PIONEER™ water systems are designed to remove both soluble lead and particulate lead from drinking water using a single filter. The PIONEER™ POE filter removes both forms of lead at standard and peak flow rates, verified with certification by IAPMO R&T.
Soluble/Ionic Lead:
Ionic bonding is a chemical bond between oppositely charged ions and is the primary interaction in ionic compounds. Ionic bonds are formed when a nonmetal (adsorbent) and a metal (lead) exchange electrons. PIONEER™ binders are engineered to kinetically remove lead from the water by reacting with soluble lead to create an ionic bond.
Particulate Lead:
Similar to tiny grains of sand, lead particles in home water systems are often the result of corroded lead pipes. PIONEER™ filters are designed to remove and filter lead particles from water, creating a safe water usage environment.
Iron contamination is often the result of pipe corrosion in water lines and/or iron located in the water of a well. While low levels of iron home water systems are typically not considered harmful, too much iron in drinking water can be problematic. High levels of iron can stain clothing, impact that taste of food and beverages, cause water pipe blockage, and can even result in serious health effects.
Removing iron requires the installation of a whole house water softener or iron filtration system. Residential iron filters remove high concentrations of dissolved and precipitated iron and come in a chemical-free tank system. Installing a water filter keeps iron content at healthy levels and eliminates issues with odor, bacteria, and staining.
Perfluorooctanoic acid (PFOA) and Perfluorooctane sulfonic acid (PFOS) are toxic chemicals that are resistant to direct oxidation. These harmful chemicals do not break down naturally in the human body, with strong evidence suggesting that exposure to these chemicals may lead to cancer.
PFOS and PFOA are difficult to break down, meaning water filtration removal becomes the best method for ensuring your water is PFOA and PFOS contaminant-free. Canney's Water Conditioning utilizes water filtration systems certified by the ANSI 53 standard for water filtration. This standard requires the reduction of PFOS and PFOA in water to reflect levels below 70 parts-per-trillion. Certified PFOA and PFOS water filters provide the best option to combat toxic PFOA and PFOS levels in your water.
Nitrate contamination usually occurs when fertilizers and livestock waste runoff into a water well. Shallow wells or damaged casings can increase the chances of nitrate entering a water line. Improperly maintained septic systems can also contribute to nitrate and nitrite contamination.
Canney's Water Conditioning offers high-capacity nitrate/nitrite filtration systems for well water applications. These filters remove both nitrate and nitrite from well water supplies, bringing nitrate below 10 mg/L (ppm) and nitrite to 1.0 mg/L (ppm) or lower. Canney's nitrite/nitrate water filtration systems are ANSI 53-certified. We offer on-site installation from our qualified technicians.
A reverse osmosis drinking water system connects to an R/O faucet usually located at your sink to provide purified drinking water to your sink and/or your refrigerator in your home. Reverse osmosis systems use a high-pressure pump and a semi-permeable membrane filter to remove dissolved sediment and contaminants from drinking water. A storage tank then collects the purified drinking water, distributing it to your sink and/or refrigerator.
Canney's is Your Trusted Source for Water Filtration in Southwest Michigan
Canney's Water Conditioning has provided clean water for commercial and residential customers for over 80 plus years.
Contact us
today to learn more about our water filtration systems and services, or schedule a free
water test and consultation
today.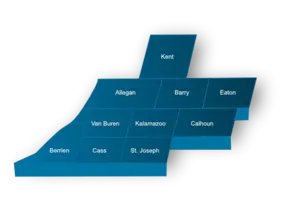 We solve water problems for the residential and commercial markets